This appears to be a bioweapon that they can deploy. First nursing homes to incite public fear, then a navy carrier, then food production. They will certainly target schools if given the opportunity.

If you have identified an astrological correspondence let's see a chart and a delineation.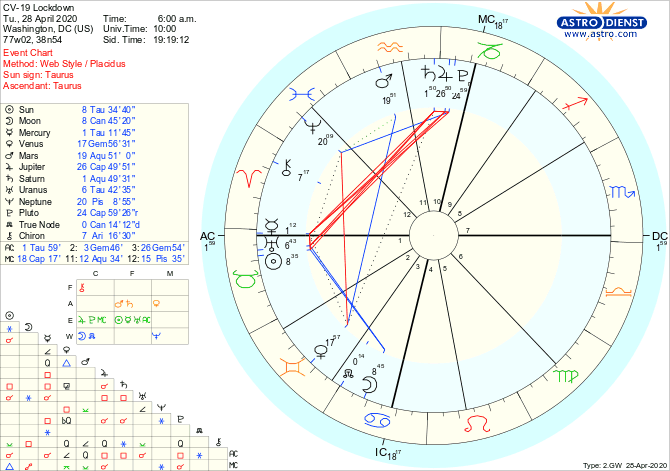 Astrodienst
.
Ok we erect a Sunrise Chart for Washington DC 06:00am April 28, 2020 - The first thing we see is all the planets are in the Ascendant side of the chart with an absolute void on the Desc. side, that gives an on / off situation seen as black and white, light and dark or in binary mathematics a 0 / 1 function, it particularly means "get with the strength" you are "for us or against us," there is no middle ground .. and if you choose not to be onside with the prevailing mindset you will be alone in the wilderness.

Planet Saturn left the sign Capricorn where it was ultra powerful and where during its time there a number high powered conjunctions occurred, and ingressed into Aquarius where it is equally strong on March 22, 2020 .. this could mark a shift in accent from the deeply political side of things as per Saturn / Capricorn, to a less well defined approach that will draw on pseudo scientific medical input from pseudo scientific ppl - crook doctors lured into the power clique to enhance their social prestige.

Saturn goes retrograde in Aquarius on May 11, so expect a shift in focus at that time while it re enters Capricorn July 2, so expect a resurgence of political newthink at about that time as it retros across old ground, picking up the pace eventually when it goes direct again Sept. 29 and heads back into Aquarius in December .. so we are gonna be in the thrall of that planet and all of the bs and power grabbing that goes with it well into the New Year.

Neither the Sun, Mercury, Uranus triple conjunction in Taurus nor the nearly worn out Pluto / Jupiter conjunction in Cap. can offer much resistance while none are in their "good signs," Mars in Aquarius is similarly there under the terms of Uranus then Saturn and can do little except offer moral support .. Venus in Gemini in mutual reception with Mercury in Taurus presents the other side of the debate and will stick to its guns, Neptune in Pisces holds its own amid all the strife.