The truth about Titanic sinking by the Jews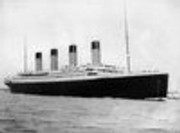 MartinTimothy
2 July 2022
April 14, 1912 RMS Titanic collided with an iceberg and sank 2hrs 40 minutes later, there were more than 2200 passengers and crew aboard for the ship's maiden voyage to the United States, only 705 survived most of whom were allegedly Jews. The ones in the lifeboats some of which were mostly empty, are known to have fended swimmers away with boathooks.
"The night Titanic hit the iceberg there was a big party going on, Captain Smith could not be aroused from sleep," the officer of the watch was asleep and quite possibly drunk at the rear of the pilothouse."The Mate William Murdoch who was on the bridge and Quartermaster Robert Hichens who was at the helm when the collision occurred were both allegedly affected by alcohol.
​​​
​"Murdoch was in charge of the ship in the hours leading up to the collision with the iceberg, and was thus responsible for the ship and all its passengers during that time, George Behe in his opus Titanic, Safety, Speed & Sacrifice pdf says other icebergs had been seen and that Murdoch was responsible for not slowing down in direct violation of the posted orders from the White Star Line."
J Bruce Ismay Chairman & Managing Director of the White Star Line was a passenger on board Titanic when it sank, after the iceberg had been sighted he allegedly brought his guests onto the bridge and persuaded Murdoch and Hichens to join the party and to bend the rules and steer closer to the 'berg, allegedly for the titillation of the same upper class passengers, and that was what caused the sinking, not a Bomb, JP Morgan nor the Mummy's Curse.
Thus if Ismay was giving orders on the bridge, the ship was in serious trouble indeed!
In the event Titanic's heading changed just in time to avoid a head on collision, however the change in direction caused the ship to strike the iceberg a glancing blow, while an underwater spur of ice scraped along the starboard side of the vessel for about seven seconds, causing chunks of ice dislodged from upper parts of the 'berg to fall onto her forward decks. Wiki.
Some say RMS Californian under the command of Captain Stanley Lord could have done more in response to Titanic's distress rockets, claims refuted at BBC News. Witness describe pandemonium on the boat decks as shots were fired allegedly killing around twelve steerage passengers who were attempting to access the lifeboats.
Chief Officer William McMaster Murdoch who is alleged to have ordered 3rd class access blocked, is said to have shot two dead then to have suicided with the same gun.
The Wreck of the Titanic - Graphics by Jaco Grobbelaar & William Neff
.
​​
.................