Barry Jennings & Michael Hess.

http://www.youtube.com/watch?v=kRaKHq2dfCI
Barry Jennings' testimony contradicts the official WTC 7 story.
http://www.youtube.com/watch?v=ZduP7HTM3cg
Michael Hess recounts the two men's dramatic rescue by the FDNY.
Jennings: Upon arriving into the OEM EOC, we noticed that everybody was gone, I saw coffee that was on the desk, and half eaten sandwiches," he said that he made telephone calls, and was told to leave the building right away, "when we reached the 6th floor there was an explosion"

"The landing we were standing on gave way and I was left there hanging, we had to climb back up to the 8th floor," said Jennings, he broke a window with a fire extinguisher, and after attracting the attention of a civilian, both he and Michael Hess were rescued.

"I was trapped in there for several hours .. both buildings came down, all this time I'm hearing all kinds of explosions .. [the lobby] was in total ruins .. we were stepping over people and you can tell when you're stepping over people." A fireman escorted both men to street level, where a police officer told Jennings, "you will have to run because we have reports of more explosions."

http://www.youtube.com/watch?v=arVPrp5OzVs
Mayor Rudy Giuliani Knew The Twin Towers Would Collapse!
http://www.youtube.com/watch?v=nyKtNHPeKxg
Barry Jennings says he could have been mistaken, re bodies in the foyer of WTC 7.
When Barry Jennings and Michael Hess received their orders to go to the 24th floor of WTC 7, all others had evacuated after being warned the structure was about to collapse, Mayor Rudolph Giuliani is the only one with sufficient authority to give such an order .. so why did he want both men dead!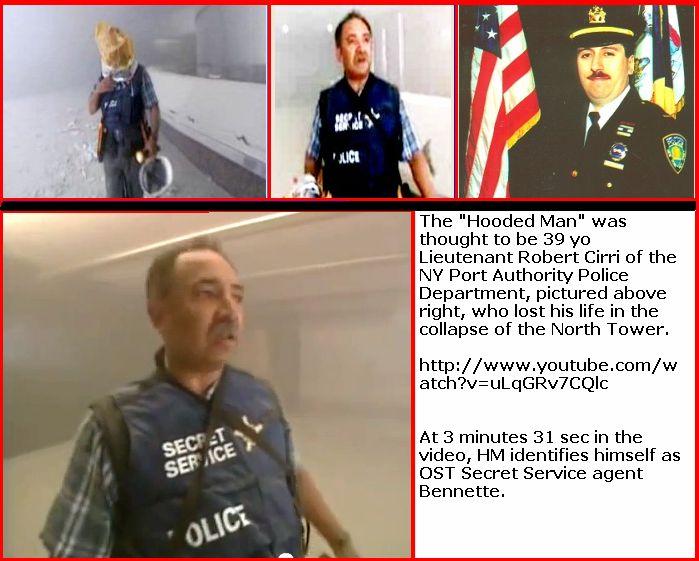 http://www.youtube.com/watch?v=uLqGRv7CQlc
The video shows a hooded man in a bullet resistant vest marked Secret Service and Police in the first floor foyer of WTC 7, identified as OST Secret Service agent Bennette.