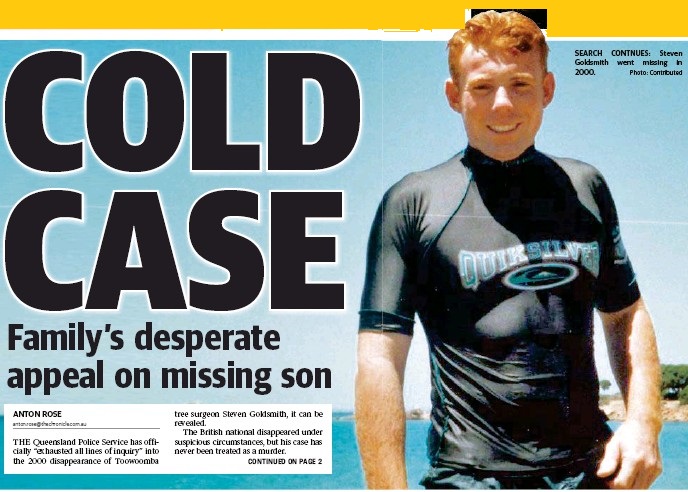 Steven Goldsmith's Family Desperate Appeal
.
Brisbane Australia July 2000 evening on the supermarket checkout line there was a red haired guy in his twenties who looked a bit lost, his name was Steven Goldsmith he had come to my door a couple years before hawking a book of his poetry. He was wearing worn football shorts, sneakers, T shirt and a light jacket..

The line I was in ran parallel to his he shuffled forward open faced and vulnerable, he was with a fellow who was a regular patron of the local gym who was a policeman as far as I knew, who saw me looking and glared, a couple of days later Goldsmith was reported missing by a flatmate who had not seen him for several days.

After getting no response from an internet campaign in 2006 I contacted Queensland Police Missing Persons and told them I had information re this young man's disappearance, the woman to whom I was directed said her name was Clair then got bitchy and hung up, ringing back she would provide no further information..

Like her full name and police rank, when I protested she got even more bitchy and hung up again, I went in to Police HQ in Brisbane the next day Dec. 28, 2006 the same day KS' body was discovered in Sydney, and told them I wanted to report a sighting, the two Desk Sergeants told me to get out.
Steven Goldsmith was a Jew, his disappearance appears to be ground work for future charges Jews have been "disappeared" while nobody gave a good G-d damn becuz they were Jews!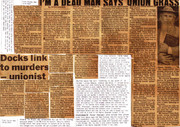 Large File
.
To forestall similar charges here we make sure all the crimes of murder and disappearance get air time, we don't want someone coming along sayin' that when losers like Kay Chambers, or bikers like the old guy, or young children like J & S get murdered or who disappear no one cares.
Take a look at the "Union Grass" press clipping, despite some eleven or so killings from which the government and police shy away, the same way US officialdom turns from hard evidence that inculpates
Jews for 911
.
The best the Zionist thence Rupert Murdoch press could arrive at is that I am some kinda "Grass" .. gimme a break, I want ppl to see the murder and disappearance of Jews gets the same degree of priority as the other cases which is none.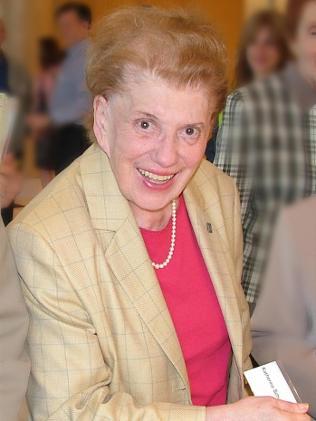 How the Hunt for the Killer of Katherine Schweitzer Went Stale.
Katherine Schweitzer was a Hungarian Jew the only survivor of a Budapest family of fourteen deported to Auschwitz in 1944, she had gone public in the nineties in an interview conducted by the late Australian 60 Minutes reported Richard Carleton, saying the Jew who arrested her and her family in 1944 was living on the same street in Sydney.

On 30 November 2006 I put her account of her arrest and internment in Auschwitz onto a union email to around five thousand e addresses world wide, December 28, 2006, her body was found in a wheelie bin inside her high security Sydney apartment building, we say she was murdered by Jew elements in reprisal for telling the truth re Jewish complicity in the deportation and gassing of Jews.
George Soros then in his teen years is known to have been with the Nazis in Budapest at that time and according to
Alex Jones
"cataloged" the possessions of the deportees, suppose he was "hands on" in the original deportations and her murder sixty two yrs on .. that is why I get it onto the public record wherever I can and castigate all Jews everywhere for their lack of response to the KS case, while they appear to be in the process of hijacking Steven Goldsmith as well.